Pwllheli 2nds 64 all out, MIMCC 220 for 7. 15 points in the bag.
Ten of us made it to Pwllheli, where unlike in sheltered Flintshire, a near gale was blowing in. No rain, but it was constant strong wind – much like Pughy after a night on Old Badger's Drizzle.
Some wise heads suggested we field if we won the toss to take advantage of this side wind, but having won the toss against what was at the time a seven-man Pwllheli, I offered the option and they wanted to field.
So bat we did, with Apples and Siv opening up. A young left arm opener was useful, and with the wind everything had to be watched on. From the other end too a Cowper who had a quick yorker every now and then in the mix.
Slow it began, just the conditions and variety to watch making it hard going. 2 more fielders joined after 4 overs to put them on 9. Eventually Apples was bowled for 14, playing all round a straight yorker. 25-1. Next over Siv, who had patiently dotted away with constant game management reminders from his partner, swung at one and skied a catch to be out for 2. 25-2. Gulp. In were Abs and Will. They tried to settle to the conditions and started to make some headway, but it was slow, the wind didn't let up. WIll wound up for a few hard drives and boundaries scored, only to get bowled for 20 after he started to look well set. 50-3. In came Matt at who got a run off his first ball and Speedy Gonzales was off. Conditions still tricky, but a bowling change at 10 had seen some looser deliveries and these two were digging in. By drinks we were 72-2.
Will had sauntered over to the other side of the ground to see if he could get the very temperamental electronic scoreboard to work where others had failed. Seemingly within seconds scores flashed up and Will spent the rest of the innings freezing his tits off on scoreboard duty (having yet again got a nomination for war hero having left London at 5am to make the game).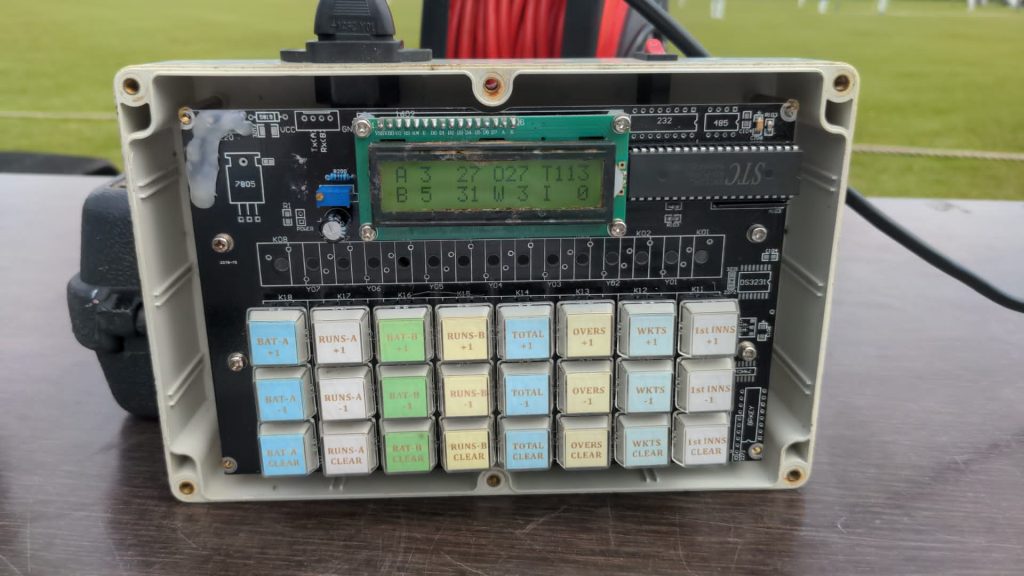 Matt and Abs may not by reputation seem like a good fit for quick running, but this partnership coped well. Abs 2.0, as referenced last week, is quicker this season. The only hinderance was a touch of shot watching, but plenty of two's were in the mix and even a couple of threes. Things were starting to motor, Abs hit a great 6 to square leg, Matt and Abs crunched many fours. Not even distracted by a pause in play when one of the side-screens blew over. By 30 overs, Matt reached his 50 and an over later the 100 partnership. An over later, Abs had a heave and was bowled for 45. A great knock and these two set a great middle innings partnership. In came Sanath at a time that suited his way of playing. A few balls later a six to square. Good running between them saw some cheeky singles and cafeteria boundaries so before long Sanath was on 25 when bowled by a yorker having a big heave.
In goes skip and after feathering an edge behind first ball – thankfully dropped and there were a few of them in the innings – began to quick fire some boundaries along with Matt, when Matt rushed at one and got caught, but his drive and speed saw him get 70, a PB. Great knock. In came Dave Markey, great to see him back in the fold and he could only put on a single before getting bowled to a wind bent yorker. Then Venkat, who didn't score facing just a few deliveries and skip ended 13 not out. 220 on the board and a fantastic total.
Tea in the clubhouse, but somewhat bizarrely the Pwllheli lads were somewhere behind the mower sheds – maybe a covid convention but we felt a bit detached.
In to field – Apples our regular gloveman and Dave M and superhero Matt to open for us. The wind was just as strong Three extras on the board and in the fourth over Matt gets a fairly tame catch back for c&b. Dave & Matt get through 5 overs each – but nothing really aggressive coming from Pwllheli. The wind was difficult for them and apart from one of two short deliveries, they were struck on a run rate of about 1.5 an over. In the field we were tight – Abs in particular a wall at silly mid-off with one great reaction stop to a certain four. Venkat at point also pouncing on several cuts to stop a run. By the end of their 5 more runs were coming so that they were on 26 and quite a few of those extras.
First change – Sanath and Prashad. Sanath – little rusty but genuine pace saw him start with a maiden. Prashad had joked before the game he was in wicket hunting mode and sure enough in his first over he struck courtesy of a Sanath catch.
Next over Sanath kept it tight and then Prashad struck in his second – bowling their number 3. In Prashad's next he could only manage a maiden, before getting back on form in his fourth with an lbw given. After 20 they were on 40ish. We decided to keep going and on came Venkat and Abs. Venkat found a good line and length nearly straight away. One delivery their bat tried to pull to square, but top edged high and straight up in the air. Apples looked up, got up out of his armchair at a similar pace as what I imagine he uses when asked can he just put the ironing board away – and like a slow-mo out of knight rider lumbers forward seconds later to not quite get there. I cant repeat the look on Siv's face.
Any how Abs rattled through a few overs but no wickets. Venkat confirmed the old proverb that shite gets wickets by bowling an absolute pie which surprised the batsman to loop it back at him. c&b. Next over a square pull up and down to Matt sees his second of the day from his second worst ball. Prashad was back on by now and in his second over bowled their number 9 – top of off who took a massive heave.
64 all out and a great days work for us. Good batting all round and 15 well deserved points in the bag. Thanks to Pwllheli and I hope they get good numbers to keep going. More next week please!
NB: The editor would like to express thanks to Captain Meakin that this week he has not had a requirement for the editor to arse around uploading copious images of Mr Men and Women like last week.